Make positive impressions efficiently and effectively.
Display advertising on EEJournal.com puts your branding and messaging front and center.
Display ads on EE Journal see between 0.20% to 1.4% CTR , depending on creative, target audience and CTA.
*Data for ads with the same placement and audience
How does it work?
Each Display Advertising campaign includes top, middle, and bottom banner placements on the EEJournal.com home and content pages and in daily email newsletters.
Each month you'll receive a report.
We'll send total impressions, the number of clicks the ads generated, and your CTR %.
Ready to get started?
1. Decide how many ad views you'd like to purchase.
You can purchase however many ad views (impressions) fit your goals and budget. The following table gives rough guidance for various lengths and strengths of campaigns: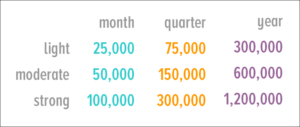 2. Choose your ad creative and which sizes to include.
You can send as many individual ad creatives as you want, but each creative must be sent as a .jpg or .gif and in the following two sizes:
IAB standard "Medium Rectangle" (300×250) *Required
IAB standard "Leaderboard" (728×90) *Required
You may then optionally also include the below larger sizes for each creative. If available, we'll substitute these in situations where a responsive layout makes more space available:
"Large Rectangle" (336×280) *Optional
"Super Leaderboard" (970×90) *Optional
Each ad set may be additionally submitted in rich-media format for the web (HTML5, etc.) and can include third-party ad server tags. A .jpg or .gif ad is still required for browsers that do not support rich media and for email newsletters. Each ad must meet IAB standards.
3. Send materials one week prior to publication.
For each ad set you submit, please include the following details:
Start date and end date for the campaign
Number of ad views you want to allocate to the ad-set
URL for the landing page where clicks will be directed